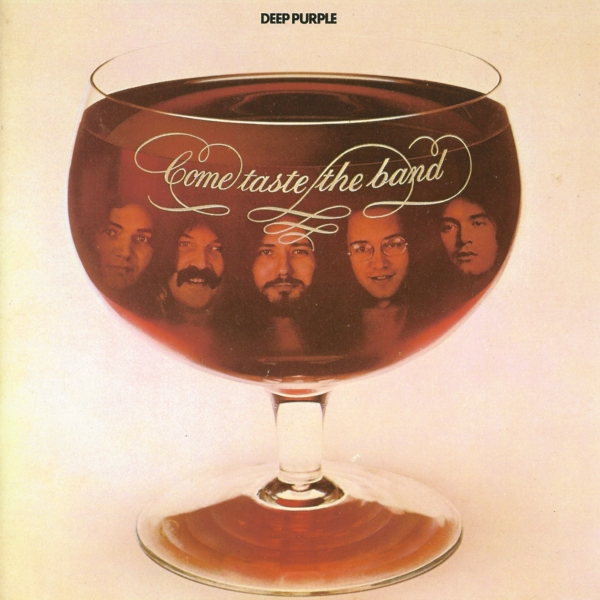 Desafortunada portada per a un dels millors discos dels anys 70, i això és dir molt. El problema d'aquest disc és que duu el nom de Deep Purple i sempre ha hagut de viure a l'ombra dels discos de l'anomenada "etapa clàssica" del grup amb Ritchie Blackmore a la guitarra (Machine Head, Made In Japan, Burn). Si
Come Taste the Band
hagués estat, posem per cas, el primer disc de
Whitesnake
, actualment seria reverenciat al costat de discos com
Ready an' Willing
. Però és aquell darrer disc de Deep Purple.
Quan el rock dur, el funk i el soul es troben surt Come Taste the Band. Tothom sap que a Ritchie Blackmore no li va agradar la línia soul-funk que el grup va començar a seguir amb el disc
Stormbringer
(1974). Cançons com
Hold On
van ser massa per a un amant del drama com ell. És per això que l'any 75 va formar
Rainbow
i va obligar Deep Purple a cercar substitut. L'escollit fou
Tommy Bolin
, versàtil guitarrista amb arrels blues-funk però que havia participat a discos de jazz fusion de gent com Alphonse Mouzon o Billy Cobham.
Per a veure si funcionava la combinació amb Tommy Bolin, Deep Purple es van traslladar a California, on van fer els assajos previs a l'enregistrament del disc. Allà van fer nombroses jams i van parir la meitat del que acabaria sent Come Taste the Band. Aquests assajos van ser prou bons i amb el temps s'han publicat de manera oficial en forma del doble CD
Days May Come and Days May Go
:
Havent vist que la cosa funcionava, el grup es va tancar als
Musicland Studios
de Munic i en un mes van fer Come Taste the Band. Va ser el cim creatiu d'un dels millors bateries que ha donat el rock, Ian Paice, però el més important és que Tommy Bolin va donar el millor d'ell mateix. Conscient de l'oportunitat que suposava ser a un grup que en aquella època omplia estadis, va demostrar tota la seva versatilitat i bon gust.
Va ser el darrer disc que
Martin Birch
va fer per a Deep Purple i cal dir que té un so especial, molt de directe. Glenn Hughes
ha dit a la seva web
que està treballant amb
Kevin Shirley
en les remescles del disc de cara a una nova edició. Em fa una mica de por. Espero que també respectin la versió original i es limitin a remasteritzar-la (com a curiositat, aquest és
el vinil original
amb les seves fotos interiors).
Els problemes de Tommy Bolin i Glenn Hughes amb les drogues van fer que la gira de Come Taste the Band tingués nits memorables i nits mediocres. Per sort, hi ha bons directes d'aquella gira del 76, on Deep Purple mostrava el seu vessant més funk en forma de llargues jams:
This Time Around: Live in Tokyo
i
King Biscuit Flower Hour Presents: Deep Purple in Concert
.
De la gira amb Deep Purple hi ha molt poques filmacions i dolentes però
podeu veure alguns bons vídeos de Bolin
dos anys abans, l'any 1974 quan formava part de The James Gang.
Tommy Bolin moriria el mateix any 1976 víctima d'un còctel d'alcohol i drogues. Tenia 25 anys.
♬
Gettin' Tighter
(Come Taste the Band)
♬
Love Child
(Last Concert in Japan)